North East Derbyshire Publication Draft Local Plan (Reg 19)
Ended on the 4th April 2018
8 SUSTAINABLE DEVELOPMENT AND COMMUNITIES
(2)

Introduction
8.1 National planning policy makes it clear that local plans should reflect the presumption in favour of sustainable development and Policy SS1 in Chapter 4 responds to this requirement.
8.2 This chapter supplements this policy by setting out the Council's planning approach on a range of issues underpinned by the principles of sustainable development. This includes a number of policies in relation to protecting and enhancing the environment, addressing climate change, and delivering successful development to achieve sustainable patterns and forms of development at the local level.
Protecting & Enhancing the Environment
(1)

Re-Use of Buildings in the Green Belt and Countryside
8.3 The re-use of existing buildings can help to provide new job opportunities and homes in rural areas. It also re-uses existing resources and reduces the pressure for new buildings in the countryside. Consequently, as an exception to the restrictions on development in the Green Belt and the countryside the re-use or adaptation of agricultural and other rural buildings for new uses will be acceptable in principle provided that the criteria in Policy SDC1 are met.
8.4 However, not all buildings in the Green Belt and countryside are suitable for conversion as they may be of in-substantial construction, of poor design or not in keeping with their surroundings. Buildings to be converted should be structurally sound and proposals which require major alterations, adaptations or re-construction will not be acceptable. Structural surveys may be required in order to demonstrate that a building is structural sound and capable of re-use. Where re-use is appropriate in principle, it is important to ensure that the resultant form, bulk and general design of the building is in keeping with its surroundings and the overall character and quality of the building is retained. Proposals which involve rebuilding, rather than re-use, will be regarded as new dwellings in the countryside and will not be permitted.
8.5 The conversion of buildings in rural areas to uses not originally intended in their design can result in visual intrusion and/or increased traffic and activity with consequential adverse impacts on the countryside. The council will seek to ensure that any proposal is appropriate for both the building itself and the area in which it is located. Proposed new uses should not have a materially greater impact on the openness and character of the Green Belt, or countryside, that the present use.
8.6 The reuse of agricultural buildings can result in the need for new farm buildings elsewhere on a farm or inappropriate outside storage of materials, machinery and/or vehicles. In certain areas new farm buildings and outside storage can adversely affect the landscape and it may be appropriate to control their proliferation by using planning conditions or negotiating a planning obligation.
8.7 Many rural buildings can also be habitats for a variety of wildlife including bats and barn owls. These species are sensitive to disturbance and therefore at risk from building works. They are also protected under separate legislation[35], with bats being afforded additional protection[36]. Therefore, an ecological survey will be required where species are protected by legislation or priority species listed under law[37] have the potential to be present.
Trees, Woodland and Hedgerows
8.8 Trees, woodland and hedgerows are key features which can define landscape character and contribute to the quality and enjoyment of the environment. They can have great nature conservation, amenity and recreational value, as well as help to reduce noise and atmospheric pollution.
8.9 The district contains areas of woodland including ancient woodland (semi- natural and replanted) dating from the Middle Ages or earlier, and a substantial number of scattered trees in rural and urban areas. Some of the most important concentrations of ancient semi-natural woodland are within the Moss Valley, which is designated as a SSSI, around Ogston Reservoir, and to the south of Holymoorside. Trees and woodlands take many years to mature and so ancient woodlands, aged and veteran trees, and wooded pasture and parkland in particular are an irreplaceable resource. Development proposals that would result in the loss, or damage, to aged or veteran trees, or areas of mature or ancient woodland, or wooded pasture and parkland will not normally be permitted.
8.10 Other individual trees, tree groups and woodland can also be, and often are, protected by Tree Preservation Orders. Protection is also given if they are located in a Conservation Area. When necessary, the Council will use Tree Preservation Orders as a means of protection if their loss would be significant in landscape, visual amenity or nature conservation terms. In addition, the Hedgerow Regulations 1997 affords special protection to substantial hedgerows which are considered to be 'irreplaceable' due to their age, and their archaeological, historical, landscape or wildlife significance.
8.11 Other trees, woodlands and hedgerows worthy of protection are similarly sensitive to the impacts of development, either directly through their removal or indirectly through the impacts of construction. Due to the contribution they can make to the quality of development, they should always be considered at the outset of the design process, and retained and protected, wherever possible.
8.12 Where their loss is unavoidable they should be replaced with suitable new planting either within the site or in the locality if this is more appropriate. Development can make a positive contribution to the local tree and hedgerow resource through new planting or the restoration and improved management of existing features. Planting schemes which use species and varieties native to the area, are locally sourced, and maximise the benefits to the local landscape, wildlife, and air quality will be preferred.
(4)

Landscape Character
8.13 The character of the District's landscape is one of contrast and diversity. The western part of the District extends up to and into the edge of the Peak District National Park, and comprises a highly scenic landscape with rolling hills, river valleys, extensive woodland and small attractive villages, including some of the finest Derbyshire landscape outside the National Park. In contrast the eastern part of the District contains larger settlements and alongside evidence of their industrial past are large areas of attractive countryside where the landscape has its own distinctive local character.
8.14 The beauty and diversity are important both to the quality of life of local communities and the economic prosperity of the District as a whole often being a central factor in attracting business and tourism. National policy states that valued landscapes should be protected and enhanced[38], and requires Local Plans to include criteria based policies against which proposals for any development on or affecting local landscape areas will be judged[39].
8.15 The characteristics of the District's landscape are assessed in detail in 'The Landscape Character of Derbyshire' which is supported by the 'Derbyshire Historic Landscape Characterisation Study'. The assessment systematically classifies the landscape into distinctive areas based on the interaction between a range of factors including topography, geology, ecology, soils, land use and tree cover. The Derbyshire Landscape Character Area Assessment subdivides the district into 12 Landscape Character Types (LCT's) over 4 National Character Areas (NCA's).
Table 8.1: Landscape Character Types
| | |
| --- | --- |
| National Character Area | Landscape Character Type |
| | |
| Dark Peak | Open Moors |
| | Enclosed Moorland |
| | |
| Derbyshire Peak Fringe & Lower Derwent | Enclosed Moors & Heaths |
| | Wooded Slopes & Valleys |
| | Wooded Farmlands |
| | Riverside Meadows |
| | |
| Nottinghamshire, Derbyshire & Yorkshire | Wooded Hills & Valleys |
| Coalfield | Estate Farmlands |
| | Wooded Farmlands |
| | Coalfield Village Farmlands |
| | Coalfield Estatelands |
| | Riverside Meadows |
| | |
| Southern Magnesian Limestone | Limestone Farmlands |
8.16 A part of the far west of the District lies within the Peak District National Park which has its own separate landscape character assessment. If the special qualities of the National Park are to be protected, careful control needs to be exercised over development outside, but which may have a harmful impact upon it. Proposals should therefore take account of the adopted Peak District National Park Authority Landscape Strategy and Action Plan, and will not be permitted when it is considered to be harmful to the valued characteristics of the National Park.
8.17 Using the approach of Landscape Character Assessment the Derbyshire County Council has identified 'Areas of Multiple Environmental Sensitivity' (AMES) based upon three key indicators - ecology, historical landscape and visual unity.
8.18 The Study identifies Areas of 'Primary Sensitivity'[40], considered to be the most sensitive areas of landscape, and which are most likely to be negatively affected by change or development. In these areas, there will be a strong focus on the protection and conservation of their environmental assets. Areas of 'Secondary Sensitivity' are still considered to have environmental sensitivities but are potentially weaker in one area. In these areas, the focus will be on management (conservation and enhancement), maintaining those features of existing value but also addressing those in decline (e.g. through landscape restoration and habitat creation). In North East Derbyshire, the AMES study identifies the key areas of primary sensitivity in the Peak Fringe[41].
8.19 Where development is proposed in sensitive areas a Landscape and Visual Impact Assessment will be required in order to demonstrate how the development would impact upon the local and wider landscape.
Figure 8.1 Landscape Character Map of Derbyshire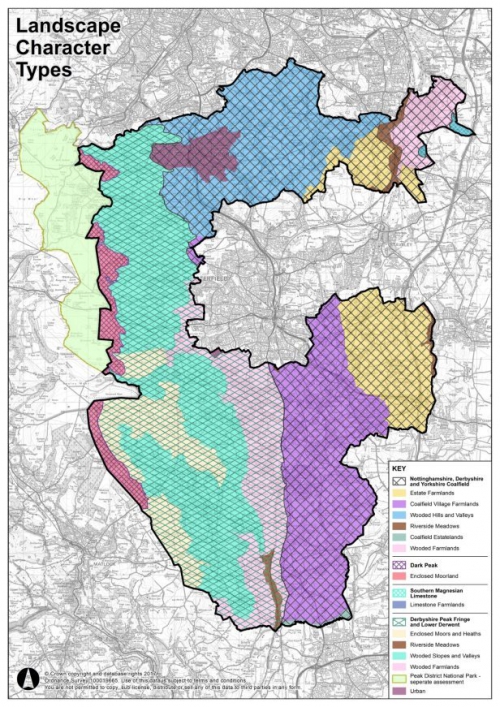 (1)

Biodiversity and Geodiversity
8.20 Biodiversity is defined as the variety and diversity of life-forms and the role that they play in the natural world. Biodiversity includes all species of plants and animals and the natural systems that support them. Geodiversity is the variety of rocks, minerals, fossils, landforms, sediments and soils, together with the natural processes which form and alter them.
8.21 The NPPF states that the planning system should contribute to and enhance the natural and local environment by:
recognising the wider benefits of ecosystems services (i.e. in terms of food, water, and recreation, for example);
minimising the impact of development on biodiversity, and
providing net gains in biodiversity, where possible, so as to contribute to halting the overall decline in biodiversity.[42]
8.22 The Plan area has a rich biodiversity which comprises a network of nationally, regionally, and locally designated sites important for their nature conservation and geodiversity value. It contains:-
7 Sites of Special Scientific Interest (SSSI) - which are nationally recognised for their wildlife and geological interest;
just over 200 Local Wildlife Sites (LWS) – which are the most important non-statutory wildlife sites in Derbyshire and cover a wide variety of habitats such as ancient woodland, grassland and wetlands - the value of which is recognised in the Lowland Derbyshire Biodiversity Action Plan. The Action Plan identifies the most important species and habitats in Derbyshire outside the Peak Park and is a key document to underpin the application of Policy SDC4.
2 Local Nature Reserves (LNR's) – the Williamthorpe Ponds on the edge of Holmewood, and The Green at Wessington – which have been declared for the benefit of both people and wildlife, and offer convenient access for people to enjoy and learn about nature. Both are also LWS's; and
a number of Regionally Important Geological Sites (RIGS) identified by Derbyshire County Council as the most important places for geology and geomorphology outside statutorily protected sites such as SSSI's. Like wildlife sites they are important as an educational, historical and recreational resource.
8.23 In order to prevent the degradation of the district's biodiversity and geodiversity resource, designated sites will be protected, and development proposals must demonstrate they do not cause adverse impacts, whilst contributing to their qualitative improvements through better access or on-site improvements. Proposals for development should seek to conserve biodiversity and geodiversity, and actively enhance biodiversity in order to provide quantifiable net gains wherever possible and avoid a net loss in biodiversity. The Council will therefore seek to ensure new development maintains, enhances and extends the district's ecological network and avoids the fragmentation and isolation of natural habitats. Maintaining and planting trees and creating new habitats through green infrastructure will be supported.
8.24 In addition, outside the Plan area there also are parts of designated sites of international importance for nature conservation including the Peak District Moors Special Protection Area (SPA), the South Pennine Moors Special Area of Conservation, and the Peak District Dales SAC. These SPA's and SAC's are afforded the highest level of protection in order to conserve the priority habitats and species that exist within them. Although falling outside the Plan area the council has a duty to ensure that all the activities it regulates have no adverse effects on the integrity of these internationally designated sites.
8.25 Policy SDC4 therefore applies to all development proposals within the district affecting biodiversity and geodiversity including sites of international importance for nature conservation located outside the district. All statutory and non-statutory sites within the Plan area covered by Policy SDC4 are shown on the Policies Map.
(2)

The Historic Environment
8.26 National planning guidance advises that local planning authorities should set out a positive strategy for the conservation and enjoyment of the historic environment, including heritage assets most at risk through neglect, decay or other threats.
8.27 North East Derbyshire is fortunate to have a wealth of heritage assets which are a unique and irreplaceable resource and valued by local communities throughout the District. An overview of the historic environment is set out in the 2012 Historic Environment Study and the subsequent addendum to it. Statutory designation requires the assessment of the importance of specific heritage values such as those relating to architectural or historical interest; but decisions about day to day management need to take account of all the values that contribute to significance. Moreover, all aspects of significance, including aesthetic and communal values should influence decisions about the historic environment.
8.28 The Derbyshire County Council maintained Historic Environment Record also contains a large number of known non-designated assets that contribute to the local distinctiveness of the district. It is important to recognise that these heritage assets are an irreplaceable resource which should be conserved in a manner appropriate to their significance. The Council believes that a positive and proactive strategy should be established for the conservation, enjoyment and if possible enhancement of the historic environment which includes both designated and non-designated heritage assets, and industrial heritage, including those considered most at risk of neglect, decay and other threats.
Conservation Areas
8.29 Conservation areas are those parts of the district which have been recognised as having special architectural or historic interest which is worthy of preservation and enhancement. When considering planning applications for developments within them, a duty is placed on the local planning authority to pay special attention to the desirability of preserving or enhancing the character or appearance of the conservation area.
8.30 Designation of an area as a conservation area does not mean that no change or development will be allowed, but rather that new buildings and uses should respect the established character of the area. In making judgements about the impact of development on the significance of a conservation area the council will use its Conservation Area Appraisal where one has been prepared. Such an appraisal will have considered those features that make a positive or negative contribution to the significance of the conservation area and will be a useful tool to identify the opportunities for beneficial change or the need for protection within them. Policy SDC5 aims to ensure that conservation areas do not stifle development, but that new development complements the existing character of these special townscapes.
Listed Buildings
8.31 Listed Buildings are those that appear on the Secretary of State's 'List of Buildings of Special Architectural or Historic Interest', prepared by the Department of Culture, Media and Sport. In England the statutory body responsible for maintaining 'the list' is Historic England. The National Heritage List for England (NHLE) is the only official and up to date database of all listed and designated heritage sites.
8.32 Listed buildings are grouped into three grades, indicating their relative importance. In the district there are just under 500 listed buildings with 2% being Grade I, 5% being Grade II* (two-star) and 93% being Grade II Listed. All three grades are subject to the same legislation.
8.33 The listing of a building confers on it a significant degree of protection and special attention must be paid to maintain the character of listed buildings. Permission, in the form of Listed Building Consent, is also required for any works of demolition, extension, or alteration which affect the character of the building as one of special architectural or historic interest. This Consent is entirely separate from any need to obtain planning permission.
Scheduled Monuments and Archaeology
8.34 The District contains a wealth of archaeological remains which constitute an irreplaceable resource for, and record of, the District's evolution. If properly protected and managed they will contribute greatly to understanding the past, and contribute to the district's tourism and recreational potential. To protect the integrity of archaeological remains, preservation should take place in situ wherever possible.
8.35 The Derbyshire Historic Environment Records (HER) is maintained and updated by Derbyshire County Council and contains details of all known sites, structures, landscapes or other areas of archaeological interest in North East Derbyshire. The HER should be consulted on all planning applications within or near to areas of known archaeological interest.
8.36 The District also includes a number of Scheduled Monuments. These are remains, buildings or structures of national importance protected under the Ancient Monuments and Archaeological Areas Act, 1979. Any work affecting a monument will require Scheduled Monument Consent from Historic England, in addition to any permissions or consents required from the Council under the Planning Acts.
8.37 Policy SDC7 below, provides policy at the local level which aims to ensure that these important sites are preserved and where possible enhanced.
Registered Parks and Gardens
8.38 In addition to buildings and archaeological sites, parks and gardens make a contribution to the historic environment. One such area included on Historic England's Register of Historic Parks and Gardens of special historic interest is the park and gardens associated with Renishaw Hall.
8.39 Policy SDC8 below aims to ensure that this asset is preserved, whilst development proposals which conserve and opportunities to enhance the character, appearance and significance of such assets are treated positively.
Non Designated Local Assets
8.40 In addition to the above designated historic assets the district contains a number of buildings, structures and facades that, whilst not nationally considered suitable for statutory listing or having the protection conferred by being situated with a conservation area, nonetheless have local historic or architectural importance to warrant retention and protection.
8.41 The Government recognises such heritage assets as noted in its guidance (NPPF), and the Council will aim to identify and establish a list of locally important buildings and structures.
8.42 Policy SDC9 below aims to ensure that these assets are preserved, whilst development proposals which conserve and take the opportunity to enhance the character, appearance and significance of such assets are treated positively.
Mitigating and Adapting to Climate Change
(1)

Decentralised, Renewable and Low Carbon Energy Generation
8.43 Climate change is now a widely accepted scientific fact. The Government has reviewed the delivery of national energy policies and has recognised that there are two major long term challenges to tackling climate change and delivering secure, clean energy at an affordable price. Renewable energy sources are key to a sustainable, economic and environmental future. The development of clean sources of electricity is essential to cutting down carbon dioxide emissions which is a major contributor to climate change and global warming.
The 2008 Climate Change Act was published with the aim of encouraging Britain's transition to a low carbon economy, with this to be done through unilateral legally binding emissions reduction targets.
8.44 National guidance sets out the Government's commitment to facilitating the development of renewable energy sources, but recognises that this must be consistent with protecting the local as well as global environment. In particular, care should be taken in assessing proposals for renewable energy projects in sensitive, designated areas.
8.45 The North East Derbyshire Low Carbon & Renewable Energy Study (2011) assessed the potential for renewable energy technologies, and identified where there are significant constraints to particular types of renewable energy. In terms of wind energy the Study found that the practical deployable potential for wind energy is limited principally by the commercial value of a very small number of available sites in the district. Based upon the evidence in the Study the plan does not therefore identify suitable areas for wind energy development and such proposals will be considered against the Government's latest policy guidance including any relevant policies dealing with onshore wind energy in any neighbourhood plans.
8.46 The Study also identifies areas of potential for district heating, based on the towns and in close proximity to new major development sites. The Council recognises that there are variety of other ways to reduce carbon emissions and that different renewable and low carbon energy technologies will suit different parts of the District and different types of development. In some cases better CO2 savings are achieved at less cost by reducing the overall energy use of development through its design and layout rather than by generating energy use from renewable energy technologies this could also lead to the savings being more cost effective. This issue is addressed in Policy SDC12 (High Quality Design and Place-Making).
Flood Risk
8.47 The Water environment is vital for its contribution to the District's biodiversity and is important to the economy and to the quality of life of people both within and outside the District. Development must take place within environmental limits and carefully consider how the water environment will be affected. How much waste water can be safely disposed of, the protection of vulnerable aquifers and the prevention of increased flooding are key considerations in developing sustainable communities.
8.48 National policy is clear that planning policy should minimise vulnerability and provide resilience to impacts arising from climate change, and avoid inappropriate development in areas at risk of flooding. As a principle therefore, inappropriate development in areas at risk of flooding should be avoided by directing development away from areas at highest risk. Where there is the possibility of any flood risk to a proposed development site, or the potential for flood risk impact on other sites, a site-specific Flood Risk Assessment will be required.
8.49 The Strategic Flood Risk Assessment (SFRA) carried out in 2009 classified all land within the District into one of four Flood Zones 1, 2, 3a and 3b. This classification has been undertaken at the strategic level and is intended primarily for guidance purposes in the overall planning process. It provides an overview of the areas susceptible to flooding and the risk posed by flooding from rivers, groundwater and surface water runoff. It assesses the risk as it stands today, as well as the increased risk from a changing climate. The SFRA allows us to make more informed decisions about potential development sites in the Local Plan. Strategic decisions can therefore be made on where development is most appropriate in relation to flood risk. Significant flood risk exists to the north and west of Killamarsh and to the east of Eckington. A smaller area of flood risk exists in Dronfield and to the west and east of Clay Cross. Constraints also exist to the west of North Wingfield and Grassmoor and to the south of Wingerworth. Derbyshire County Council is responsible for coordinating the management of flood risk across Derbyshire and is a Lead Local Flood Authority (LLFA). The Environment Agency has flood risk management responsibilities over sections of main river such as the River Rother, River Drone, River Doe Lea, River Amber, Alfreton Brook, River Erewash and River Meden.
8.50 The Environment Agency is responsible for licensing abstractions, pollution control, and the quality of the water environment, whilst Yorkshire Water and Seven Trent are responsible for water services and sewage treatment across the District. Water Cycle Studies aim to identify tensions between growth proposals and environmental requirements in relation to water and identify potential solutions to addressing them, examining water supply, sewage disposal and water abstraction. A Water Cycle Study Scoping and Initial Study Report was carried out in 2010 for the District alongside Bolsover and Chesterfield Borough, to ensure that the growth envisaged for the District can be supported and is not hindered by water infrastructure and resources. This will be reviewed in collaboration with water infrastructure providers as part of the work on the forthcoming Infrastructure Study and Delivery Plan to support the next stage of the plan process.
8.51 The Council's approach to water management complements The Humber River Basin Management Plan. In particular the Local Plan has an important role in the key actions of promoting water efficiency, SuDS, re-use of water and the value of green infrastructure. The Council will require developers to demonstrate that their surface water drainage proposals, particularly for large sites, are appropriate and adequate for the development and will not increase the flood risk to land and property either upstream or downstream of the development site. Sustainable Drainage Systems (SuDS) are a desirable means of achieving this. Hard surfacing resulting from development (including roofs) reduces the ability of the land to absorb and/or store water, it is important that SuDS and other methods are utilised for water management. This will include grey water recycling, rainwater harvesting, green roofs, permeable paving, infiltration areas and soakaways. New development must address the issue by managing runoff from new developments to hold back rainfall from reaching the drainage and river systems too quickly. As of April 2015, the surface water elements of the Flood Risk policy became the responsibility Derbyshire County Council as the LLFA.
Foul Water Drainage
8.52 Policy SDC11 requires applicants to ensure that adequate foul water drainage systems are in place and that sufficient capacity exists within the sewer network to cater for proposed development.
8.53 Severn Trent Water and Yorkshire Water are the companies responsible for taking away wastewater from homes and businesses across the district. The council relies on feedback from them in order to ascertain whether sufficient capacity exists within the network to accommodate new development or where it may be necessary to coordinate development in line with any upgrading work. This will be dependent upon the scale and location of development proposed and developers are encouraged to engage with the relevant water company at the earliest opportunity. Should the relevant water company advise that connection to the public sewerage system is not possible, alternative on-site treatment methods and septic tanks associated with a new development will be permitted subject to the satisfaction of the Environment Agency.
Contributing to Successful Development
High Quality Design and Place-Making
8.54 Successful places tend to be those that have a distinct identity or sense of place. Good design and the creation of attractive places are not just about how buildings look. It is also about taking the opportunities available for improving the character and quality of the area as well as the way it functions as a place. Respect needs to be given to local character and context, and the quality of the buildings and the spaces around them, both public and private.
8.55 Good design can help to improve quality of life, equality of opportunity and economic growth. All development should therefore contribute positively to the creation of well-designed buildings and spaces as well as aiding resilience to the impacts of climate change.
8.56 Policy SDC12 sets out the design criteria to be taken into account to ensure quality, distinctive, and functional design and to ensure developments are satisfactorily assimilated within the existing local context reinforcing local character and a sense of local identity. It also aims to ensure that development through its design meets the challenges of climate change. This set of criteria is not intended to stifle originality but rather forms a broad framework within which sustainable design concepts can be developed.
8.57 The policy should also be read in conjunction with the guidance contained within the Successful Places: A Guide to Sustainable Housing Layout and Design document. This document primarily supports the creation of locally distinctive, well designed places to live. In particular it sets out the design process which is expected to be followed in order to demonstrate proposed development is based upon a clear appreciation of the site and its wider context.
8.58 On major schemes and/or those located within particularly sensitive locations the Council may seek input from specialist urban designers at an early stage in the design process. It may also seek to refer scheme designs for independent assessment through a Design Review Panel(s), and to use Building for Life 12 as a tool to improve design elements of development. Where relevant the Council will expect the recommendations made by the Council's appointed urban designer and/or a Design Review Panel to have been taken into consideration in the final scheme design.
Environmental Quality
8.59 Planning has an important role to play in making sure that new development does not have, and is not at risk from, adverse environmental effects. Pollution can occur in terms of water, air, noise, light and land. Ensuring a safe environment is a prerequisite for safe and healthy communities and quality of life.
8.60 The history of North East Derbyshire as a location for minerals extraction and heavy engineering has sometimes left a legacy of land that has been affected by contamination from its former use. It is therefore important that the quality of both groundwater and surface water supplies are protected from contamination. It is also important to locate, design and manage new development so as not to give rise to unacceptable impacts on sensitive land uses or features. New sensitive land uses should not be located where they may be affected by the otherwise acceptable effects of established ones.
Air Quality
8.61 Clean air is an essential element of a good quality life. The existing, and likely future, air quality in an area should be considered through Local Plans. It may also be material in considering individual planning applications where air pollution considerations arise.
8.62 The National Air Quality Strategy aims to ensure a level of air quality which poses no significant risk to health or quality of life. Where there is a likelihood of a national air quality objective being exceeded the Council has to declare an Air Quality Management Area (AQMA) and prepare an Air Quality Action Plan (AQAP) setting out the measures we intend to put in place in pursuit of air quality objectives. Whilst there are currently no AQMA's in the district, parts of the East Sub-area have greater levels of nitrogen dioxide and PM10 than other areas of the District, due to exhaust emissions from traffic on the M1.
8.63 In addition to reducing impacts on human health, development should not result in the deterioration of protected habitats and species. These include Special Protection Areas (SPAs) and Special Areas of Conservation (SACs) located outside of the district which are jointly included in an EU wide network of sites called Natura 2000 sites. Development which is proposed to take place proposals that are likely to increase air pollution in the vicinity of a Natura 2000 site will need to undergo an assessment under the Habitats Regulations 2010 in order to determine its likely impacts on the sites and habitats in question.
Noise and tranquillity
8.64 Noise pollution is noise created by man-made sources which is excessive, causes disturbance or annoyance, and can affect wildlife and sensitive areas, including areas known for their tranquillity. It often occurs as a result of industrial operations, transportation, or roads. National Policy[44] and the NPPF acknowledges that good planning should aim to prevent the adverse effects of noise from being unacceptable, both in identifying locations for new noise sensitive and noise generating development.
Light Pollution
8.65 Light pollution is artificial light that is allowed to illuminate on areas that are not intended to be lit. The intrusion of overly bright or poorly directed lights can cause glare, wasted energy, have impacts on nature conservation, and affect people's right to enjoy their property. It can also severely affect views of the night sky. The NPPF is clear that planning policies should limit the impact from light pollution on local amenity, intrinsically dark landscapes, and nature conservation, primarily through promoting and requiring good quality design in order to cut down on light pollution and the impacts that it causes.
8.66 The Council will seek to where possible reduce light pollution by encouraging the installation of appropriate lighting and only permitting lighting proposals which would not adversely affect amenity or public safety. Lights should be appropriately shielded, directed to the ground and sited to minimise any impact on adjoining areas, and of a height and illumination level of the minimum required to serve their purpose.
Soil
8.67 It is government policy to protect and enhance the natural environment by preventing both new and existing development from being adversely affected by unacceptable levels of soil pollution. Soil is essential for achieving a range of important ecosystem services and functions including food production, carbon storage and climate regulation, water filtration and flood management and support for biodiversity and wildlife. Soil is a finite resource, and it needs to be conserved and managed in a sustainable way.
8.68 Some of the most significant impacts on soils occur as a result of activities associated with construction activity. A Code of Practice[45] has been developed by Defra to assist anyone involved in the construction sector to better protect the soil resources with which they work and in doing so minimise the risk of environmental harm. The council strongly encourages developers to have regard to the practical guidance in the Code of Practice.
Water Quality
8.69 The Water Framework Directive (WFD) is the primary European legislation for matters relating to the water environment and sets out how water bodies will be managed within the context of River Basin Districts. A high proportion of the rivers in the North East Derbyshire District are headwaters or tributaries of larger rivers and are highly sensitive to water quality impacts. As they are headwaters that ultimately flow into other catchments, water quality in this area has the potential to affect water bodies over a much larger area.
8.70 A joint Water Cycle Study Scoping Study was carried out in 2010 for North East Derbyshire alongside Bolsover and Chesterfield Borough. The study found that development in the district may generate a need to upgrade wastewater treatment works in order to increase capacity whilst at the same time ensuring that discharges meet water quality objectives.
8.71 It is important to consider the protection of water resources from pollution, which can affect the District's watercourse network consisting of rivers, streams, ditches, drains and canals. However it can also affect groundwater for many decades and may be impossible to remove completely, even after the source of the pollution has been cleared up. Policy SDC13 aims to ensure water quality issues are addressed and that development helps to assist improvements in the ecological status of the district's watercourse network.
(1)

Land potentially affected by Contamination and Land Instability
8.72 Sustainable development includes the recycling of previously developed land (brownfield sites) for new uses. This includes sites potentially affected by contamination.
8.73 New development can provide the opportunity to address the risks to health, and the environment associated with potential contamination and unstable land by bringing about its improvement through risk management. National guidance also advises on the need to identify, at the earliest possible stage of the planning process, whether or not a site is affected by contamination. Land can become contaminated[46] from a variety of sources, but is typically associated with some particular types of industrial and manufacturing processes, such as gas, chemical and steel works.
8.74 National guidance states that if there is a reason to believe contamination could be an issue, developers should provide proportionate but sufficient site investigation information (a risk assessment) to determine the existence or otherwise of contamination, its nature and extent, the risks it may pose and to whom/what (the 'receptors') so that these risks can be assessed and satisfactorily reduced to an acceptable level.[47]
8.75 The principle issues relating to ground instability across North East Derbyshire related to past coal mining activity. Large parts of the District, particularly in the south and east, have been identified by the Coal Authority as being within 'Development High Risk Areas' due to the known occurrence of coal mining legacy issues and related hazards. In these areas, coal mining legacy issues have the potential to create unstable land and risks to surface development.[48] It is therefore necessary to demonstrate how new development proposals will be safe and stable.
8.76 Failure to deal adequately with contamination or instability can cause harm to human health, property and the wider environment. All planning applications for new development on sites which are potentially contaminated or are underlain by potentially unstable land should be accompanied by a preliminary assessment to identify and evaluate all potential sources of contamination or ground instability and the impact on land or controlled waters relevant to the site. In some cases further detailed assessment of risk may be required prior to the determination of planning applications. The aim is to ensure that new development is appropriate for its location and that the physical constraints on the land are taken into account at the planning application stage. Land affected by contamination often contains valuable areas of biodiversity, and historical interest. In some cases, a careful balance will need to be struck between the benefits of remediation and the harm to other interests, based on the collection and submission of sufficient information by developers at the planning application stage.
(1)

Hazardous Installations
8.77 The NPPF states that planning policies should be based on up to date information on the location of major hazards and on the mitigation of the consequences of major accidents. The Health and Safety Executive (HSE) provide planning advice to local authorities on developments which fall within the consultation zones of hazardous installations.
8.78 There are a number of hazardous consultation zones which affect the District, one of which relates to an operation just outside of the District. These installations are regulated by the Health and Safety Executive in accordance with Control of Major Accident Hazards (COMAH) regulations:
Veolia Environmental Services, Norwood Industrial Estate, Killamarsh
Caldic UK Ltd, Holmewood Industrial Estate, Holmewood
Maxam UK Ltd, Holmewood Industrial Park, Holmewood
EPC UK Ltd, Rough Close Works, South Normanton
8.79 Each installation has consultation zones around it which are determined by the HSE depending upon the materials stored and the technology operated at the site; these are periodically updated by the HSE. When considering applications for development in or near a hazardous installation or pipeline regard has to be given to the most up to date consultation zones.
8.80 Where proposals fall within the HSE consultation zones then the local planning authority will consult the HSE and apply its methodology and advice. This will normally result in either a "Do not Advise Against" or "Advise Against" determination based on the level of risk proposed to prospective occupants of the development.
8.81 Should the HSE revise its methodology on which it bases its advice with regard to developments within the proximity of Hazardous Installations then the Council will accept the advice emerging from this revised methodology.
(2)

Safeguarding Mineral Resources
8.82 Mineral resources are essential to support economic growth and are a natural finite resource. It is therefore important to make the best use of them to ensure their long term conservation. National Planning Policy requires Authorities to ensure that minerals of local and national importance are not needlessly sterilised by non-mineral development. It also requires the prior extraction of minerals to be considered in these areas where practicable and feasible, if it is necessary for non-mineral development to take place.
8.83 Derbyshire County Council is responsible for waste and minerals plan preparation and for determining planning applications for minerals and waste development in North East Derbyshire. As such, within the North East Derbyshire Local Plan area, minerals and waste issues are covered by the Derby and Derbyshire Minerals Plan (amended November 2002), and the Derby and Derbyshire Waste Plan (adopted March 2005). The 'saved policies' in those two plans also form part of the development plan for North East Derbyshire. They include saved policies relating to Minerals Consultation Areas (MCA's) and procedures to ensure that the County Council is consulted on non-minerals development in those areas. These policies should be taken into account during the consideration of development proposals. In addition, there are policies in the adopted Minerals Local Plan covering minerals safeguarding and prior extraction which may also be applicable to non-minerals applications in North East Derbyshire.
8.84 The new Derbyshire and Derby Minerals Local Plan will review the Mineral Safeguarding Areas (MSAs) and Mineral Consultation Areas (MCAs) shortly to prevent the unnecessary sterilisation of surface mineral resources. This is likely to include mineral resources within North East Derbyshire. These predominantly relate to surface coal reserves, but also to a small area of carboniferous limestone.
8.85 Within the MSAs and MCAs, defined by the Derbyshire and Derby Minerals Local Plan, the presence of the mineral resource will be considered by the Council as part of the determination of planning applications. The revised MSAs and MCAs once adopted by the Derbyshire and Derby Minerals Local Plan will be illustrated on the Policies Map accompanying the North East Derbyshire Local Plan.
8.86 In addition, consideration will be given to the policy and advice set out in the National Planning Policy Framework and the National Planning Practice Guide. This includes the need to safeguard existing, planned and potential minerals storage, handling and transport sites to ensure that sites for these purposes are available should they be needed and prevent sensitive or inappropriate development that would conflict with the use of sites identified for these purposes. The District Council is working with Derbyshire County Council to develop a joint approach to identify and safeguard such sites.

back to top
back to top